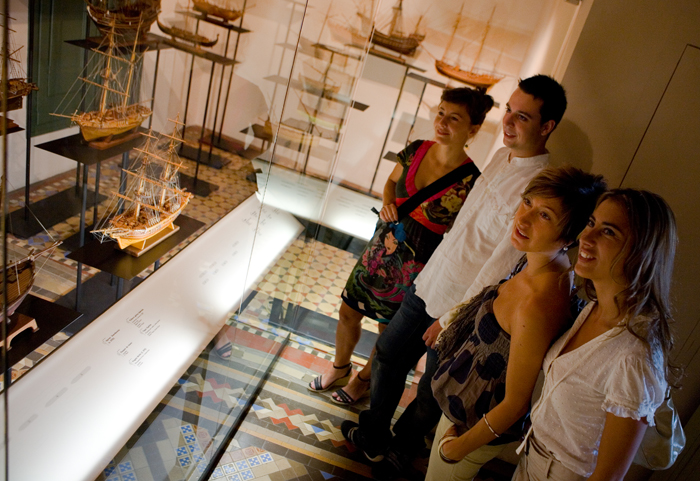 The Maritime Museum is housed in the old Casa Garriga. This building, constructed in the second half of the 19th century and located on Passeig Verdaguer, is the emblem of a glorious past, when some of Lloret's townsfolk left everything behind to seek their fortune in the Americas.
In around 1860, Enric Garriga i Mataró set off on his long journey to Cienfuegos in Cuba, where together with his brother he set up a construction material company. The Garriga brothers amassed a huge fortune and in 1887 commissioned the construction of the family residence in their home town, Lloret de Mar. This house, a legacy of the indianos (those who returned home after making their fortune in the Americas), is one of the few that remain in Lloret, together with Casa Font or Can Comadran, located in the old quarter. Lloret Town Council acquired the house in 1981 in order to turn it into a local museum. Over the years, the museum's design and structure became dated and required modernisation. The refurbishment project turned Can Garriga into the new Maritime Museum. It is more than a mere museum since, thanks to its outstanding central location, it has become the gateway to the Open Museum of Lloret (MOLL). Thanks to new museum techniques and the incorporation of fun and educational features, visitors to the Maritime Museum are taken on a real journey through the history of Lloret and its close relationship with the sea.
Sailing through history
The museum is split into five areas: Sons of the sea, Mediterranean, Gateway to the ocean, Lloret after sailing ships, and Beyond the beach. The route through the museum takes in everything from coastal trading in the Mediterranean to high-sea sailing across the Atlantic. Visitors discover a Lloret in which the shipyards worked day and night and the beaches were filled with women repairing fishing nets for their menfolk, in time for the next day's fishing. In the golden age of the merchant navy, during the first half of the 19th century, the town was an abuzz with the Caribbean aromas of products including cigars, cocoa, rum or noble woods such as mahogany, which the indianos used for decorating their houses. By the second half of the 19th century, in around 1860-70, this new-found prosperity was on the wane. The inventions ushered in by the new century, especially the steamboat, put paid to the ancient tradition of sailing in Lloret. The town returned to subsistence activities such as fishing and agriculture. However, the 20th century with its new fashions and the birth of new mass phenomena such as leisure time for holidays, led to the emergence of the activity that would once again transform the local economy, namely tourism. Since the mid-1950s, Lloret's economy has been dedicated body and soul to the tertiary sector and tourism.
Photo gallery
---