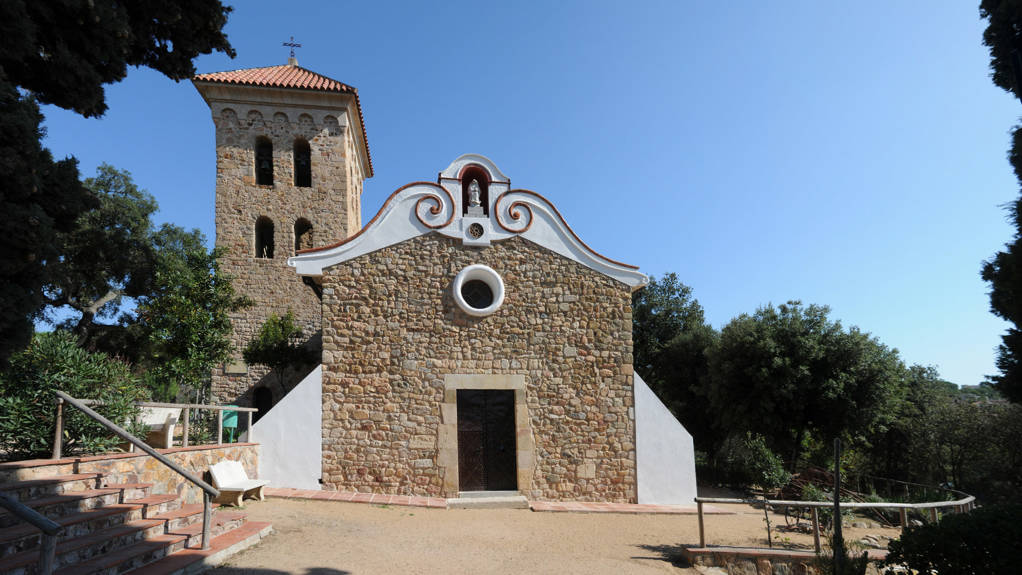 The Chapel of Les Alegries was the town's parish church from its consecration in 1079 to 1522, when it switched to its present-day location. The land on which the chapel was built was donated by Lady Sicardis of Lloret de Mar, together with a surrounding area with a diameter of thirty-four paces, designated for a cemetery. It is believed that this location was chosen because it was the point where the roads to Tossa, Maçanet, Santa Coloma and Girona met.
Once the parish church switched location, this chapel was known by different names, such as Església Vella or Mare de Déu Antiga and, later on, Mare de Déu de les Alegries. The temple is entered by means of a staircase presided over by a small chapel featuring an alabaster Virgin, commissioned by a devout lady. One of its arms belonged to the previous sculpture that was destroyed in the Spanish Civil War. The lower section of the bell tower up to the first level of windows dates back to Roman times. Recent restoration work has highlighted the Romanesque features of the façade and side walls. The chapel has been altered many times over the course of history. In 1913 a significant refurbishment was funded by the Narcís brothers and Joan Gelats Durall, which included a modification of the façade, the entrance door and the interior. Furthermore the baroque altarpiece was installed and the dressing room of the Virgin was built in the style of the period with gold, Venetian stucco and marble features. Six murals were produced with reproductions of the Joys of the Virgin (scenes from the Virgin's life) and Christ's ascension to heaven, which also depict personalities from the time, including one of the patrons. In 1914 a second level of double windows was added to the bell tower and in 1939 a roof was built with Lombard arches. The Virgin figure was restored in 2006 by Mother Elena of the convent of Sant Daniel in Girona, a graduate in art and restoration techniques who was commissioned to restore the tapestry of the creation in Girona Cathedral. Outside, a series of centenary cork oaks can be observed, along with a small display of the future Exhibition of Farming Tools of Les Alegries.
Visits
The chapel opens to the general public for Lloret's Festa Major or Main Festival on 8 September in the evening and on the following Sunday throughout the day. In January it opens in the morning of the first Sunday after Epiphany, the day of the Muleteer Festival, wrapped up in the legend of the same name. Finally, in May it hosts the Flower Festival. The chapel is decorated with flowers and the sacristy can be visited throughout the day.
Photo gallery
---