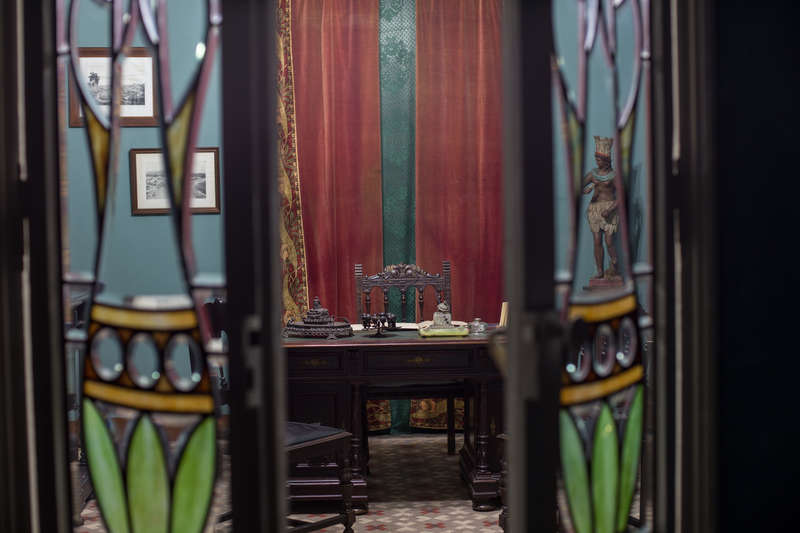 Can Font, also known as Cal Conde or Can Piuet, was built in 1877 by the master builder Fèlix Torras i Mataró of Lloret. The project was commissioned by Nicolau Font i Maig. On the central crowning of the upper section of the main façade there is an monogram with an "N" and an "F", the initials of the first owner.
Can Font is markedly modernist in style. It is composed of a basement, ground floor, two upper floors and an attic. The rooms on each floor are arranged around a central staircase.
The façade is in the neoclassical style fashionable at the time of its construction.
The rhomboid floor plan of the house is reflected in all the rooms but is especially noteworthy in the staircase, due to the width of its central opening and the good natural lighting it enjoys.
The interior design of the house stands out for its superb craftsmanship, seen in the sgraffito work, frescoes and plasterwork on the ceilings and walls, the floor mosaics and ceramics, the wrought ironwork of the railings and interior stained-glass door, and the wood-framed leaded stained-glass windows... all in a uniform modernist style.
The building stands out artistically and architecturally due to the following structural elements:
The stairwell and the stairs inside with mahogany railings
Vestibule and entrance hall
Polychrome mosaic flooring
Fully equipped bathroom with delicate tiling featuring modernist motifs
The manor house was sold in 1940 by Nicolau Cabañas i Llovet to Ferran Comadran i Torres, a textile magnate from Sabadell.
Lloret Town Council purchased the property in 1981, considering it worth preserving as a highly representative example of the grand houses commissioned by families who had made their fortune in the Americas.
Photo gallery
---