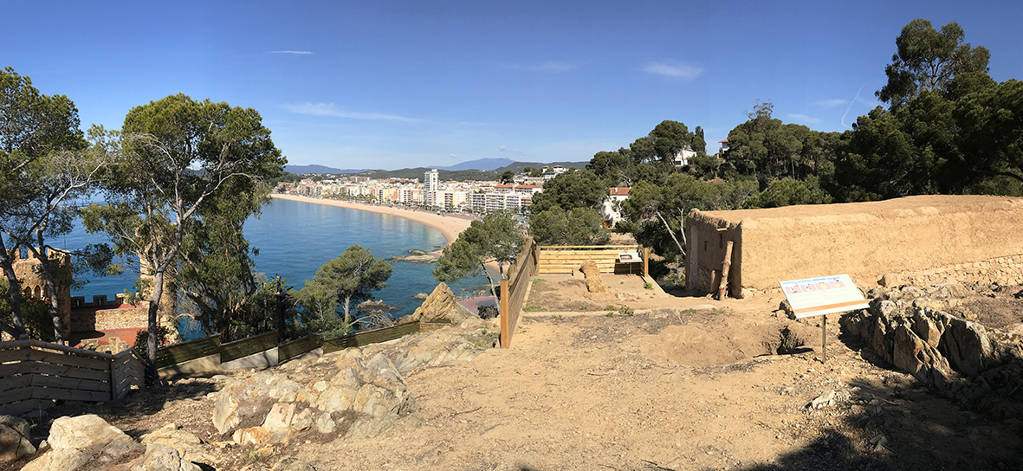 TURÓ RODÓ
The Iberian settlement of Turó Rodó is situated on a 40-metre-high promontory located not far to the north-east of Lloret de Mar. It directly overlooks the sea on a site that's easy to defend, with a wide field of vision over Lloret Beach. In fact, it stands right at the end of Lloret's seafront, constituting a clear case of an archaeological heritage site of great potential visitor interest on the Costa Brava coastline, and a golden opportunity for combining research and dissemination.
It was excavated between 2000 and 2003. These excavation works made it possible to research the main features of the settlement and its historical evolution, which stretches from the end of the 3rd century BC to the early decades of the 1st century BC. It's a barrier-type coastal settlement situated on a projecting spur. A large part of its perimeter skirts along a cliff while the only accessible areas (the northern and eastern sides) are defended by a wall. The main dwellings of this settlement (seven have been preserved in total) are attached to the interior of the wall (between 110 and 130 cm wide) and on their southern side open onto a square. Some more minor constructions can be found on the other side of the square.
The seven houses in the north area have a rectangular floor plan and are composed of two rooms: a main room to the north and small vestibule to the south, leading onto the square. The on-site reconstruction of one of these houses (house six) was carried out over the course of 2016 using experimental archaeology techniques.
The reconstruction was carried out using building techniques and materials typical of the Iberian period: local stone, lime, mud and plant materials (wood, reeds and straw). This experimental reconstruction was based on the archaeological data obtained through the excavation of the site.
The Iberian house must be classified as so-called mud architecture. Its basic structure consists of a stone base (to insulate against damp), walls made out of sun-dried bricks and a roof built out of a mixture of mud and plant materials (using the batching technique) placed over a reed frame. Various everyday items have been reproduced within the dwelling: a loom, stools, basketry, millstones, fireplace, etc.
Photo gallery
---